Tips and Tricks for Getting Shiny Hair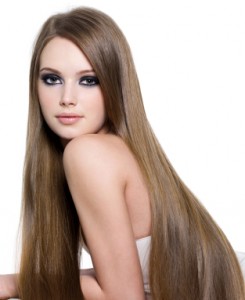 At one time or another, almost every girl has experienced flat, dull, and frizzy hair. No matter what your hair naturally looks like, there are several products you can use and at-home remedies to help your hair stay shiny and to reduce frizz. Check out the following list of tricks to help get shiny hair.
Change Your Shampoo/Conditioner
Sometimes dull hair can be caused by using low-quality shampoos and conditioners. If you are not satisfied with the way your hair products make you feel, try switching to a different brand or formula. One great thing to look for is products labeled "smooth and silky" or those with a similar label. It may take you a while to find the perfect product, but you will usually instantly feel a difference in the way your hair feels.
Use Cool Water
Instead of washing and rinsing your hair with hot water, try turning down the temperature so you are washing your hair with cool water. This helps to prevent frizz and dryness.
Deep Condition Once per Week
If you are willing to pay a little bit extra for shiny hair, try investing in a good deep conditioner and use it once per week. Deep conditioning will help to moisturize your hair and to keep it smooth, shiny, and healthy. Deep conditioning can also help with split ends to reduce frizz.
Mayonnaise Treatment
A lot of people who don't use a deep conditioner try a cheap at-home remedy using mayonnaise. With this treatment, it is very important that you use real mayonnaise and not an imitation. Simply coat your hair in mayonnaise, use a comb to get rid of any clumps, cover your hair with a towel or plastic cap, and leave in for at least three hours. Once your hair is done soaking, wash it out with regular shampoo, and use conditioner afterward. You can also use this treatment over-night if you don't have very much free time. Only use the mayonnaise treatment twice per month at the most.
Trim the Ends
Another thing you can do to help reduce frizz and make your hair look shinier is to get a trim. Often times hair looks dull because of frizzy split ends. A simple trim can get rid of these split ends without making a noticeable difference in the length of your hair.
Thanks for for visiting The Urban Teen!